Can someone please explain how to do this? Thanks
Posted 6 months ago
Unlike the old PW, we do not use BBS (Bulletin Board System), which uses a stripped-down version of HTML (HyperText MarkUP Language), what a lot of Websites are coded with. Currently, we use MarkDOWN coding instead.
Click HERE for the CheatSheet.
NOTE: This Markdown Cheatsheet hyperlink can also be found on User Walls underneath the Entry box where you can "Post Something on (So-and-so's) wall."
There are essentially 2 types of things you can post: URL LINKS and IMAGES.
The coding to do so is similar for each. However, for the purposes to this explanation, I will no be able to use the exact syntax as it will confuse the system while it tries to perform that action. Instead, I will describe the characters needed in quotes for better clarity.
POSTING A LINK :
"[" TEXT "]" "(" PAGE LINK ")"
Wherein TEXT is the Display Word to Click to go to the Page
and PAGE LINK is the URL of that Page.
EXAMPLE:
"[" HERE "]" "(" https://www.markdownguide.org/cheat-sheet/ ")"
This recreates the link I referenced above.
POSTING AN IMAGE :
Posting an image is similar in syntax to the above, with a couple of variations.
"!" "[" ALT TEXT "]" "(" IMAGE URL ")"
Wherein the "!" identifies the Link as an Image and
the ALT TEXT would be the optional Description of that Image (displayed when hovering over the image).
Leaving it as "ALT TEXT" is fine.
EXAMPLE :
Final Thoughts:
If you wish to try these using copy & paste techniques, please remember to remove The " and spaces in between.
Also TEXT and ALT TEXT are NOT case-sensitive and thus NOT required to be changed except for the purposes above.
I hope this is helpful and feel free to let me know if you need anything else clarified.
Thanks and happy posting from your Robo-Pal!
I'm gonna give it a go, starting here, for you Robo-Pal!
![ALT TEXT][https://contenthub-static.grammarly.com/blog/wp-content/uploads/2017/10/thank-you-760x400.jpg]
Posted 6 months ago
hm, didn't work. Wonder what I did wrong. Ah, I think it's that I used brackets in the image url and not parenthesis. Brackets for the ALT TEXT and parenthesis for the image url, is that it?
I'm gonna give it a go.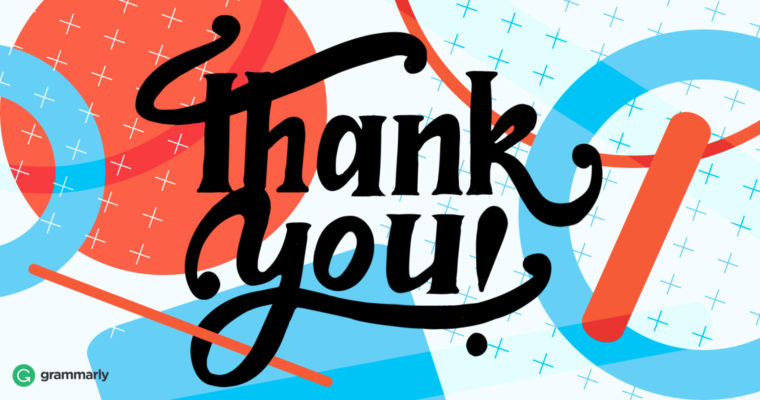 Posted 6 months ago
YEAH! Yipeeee, I got it!!! :D hahaha Now, I can tell a PW friend this is how you do it, and post something to her wall.
Posted 6 months ago
The spirit of Boris Karloff just awoke and said, "I think I've created a Monster!"
Posted 6 months ago
I don't know what I'm doing wrong posting in posting an image to a PW member / friends wall, but it isn't working. Are you sure it's exactly the same as posting here?
Posted 6 months ago
Could be the image. PM me details.
Posted 6 months ago
gypsy soul
Posts: 64
Posted 4 months ago
max.black
Posts: 36
I'll figure it out eventually
max.black
Posts: 36
So, the images that you post have to come from a website ? You can't post your own photos unless they're on a website ?
Posted 12 days ago
Correct.
I might recommend IMGUR. Similar to how Primewire uses Host sites to keep media files we share Links from, Imgur is a FREE Image Hosting site, where you can upload and save your pictures.
Once there, it creates a URL that you can access to share your images wherever you want.
Frac
Posts: 1
why not just put in a button to share pics and giphys. emojis would be terrific too. :)
Posted 5 days ago